Oil (WTI-Feb) made 13-months high (since Jan'20) around 59.81 mid-U.S. sessions, soared almost +2.70% on signs of faster rebalancing, global plateauing of COVID, and reflation. Also higher demand from China ahead of Golden week (New Year) holiday travel is helping along with India, where the country is now operating over 95% pre-COVID levels amid signs of widespread natural herd immunity. There are signs of COVID plateauing on both sides of the Atlantic as-well-as Pacific (U.S.-Europe-Asia) amid progress of vaccinations and natural infections/recovery. For the first time, 7-DMA of daily new COVID infections and deaths slips from the mid-Jan top.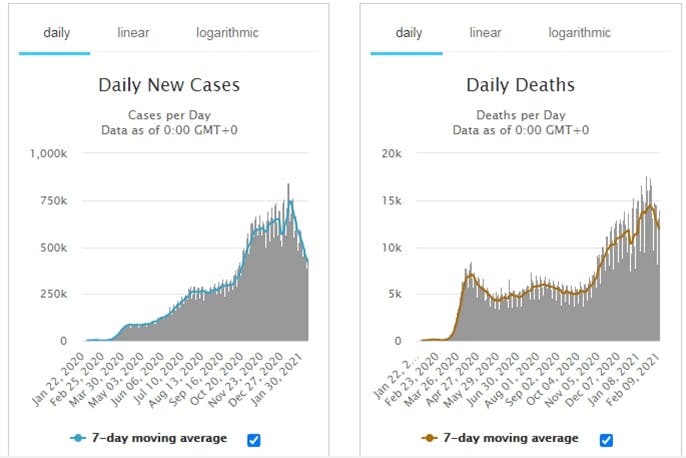 In India, although around 11M people officially infected in a country of almost 1.4B population, the random serological survey is now showing at least 60% of people have developed antibodies; i.e. was infected at any point of time and recovered (naturally already vaccinated). In India, there is no pro-active testing, tracing and nobody has an idea about the 'r' number of coronavirus. India goes into an all-out national lockdown when a total number of known COVID cases was around 500 in late March, authorities allowed to spread COVID infected people to travel four corners of the country from hot spots (Delhi, Mumbai/MH, Gujrat, and Kerala/TN).
And after almost weeks, India lifted lockdown in early June, when the known number of COVID cases was around 200K. The authorities allowed natural herd immunity (with mandatory mask-wearing and virtually no social distancing) after preparing the health care system as the number of COVID deaths was very low compared to its huge population. In other words, the authorities took an unofficial calculated risk of natural herd immunity (without public panic) rather than waiting for years under full/partial lockdown for an effective and safe COVID vaccine.
Talking about COVID 'r' number, on early U.S. Friday, oil jumped on hopes of COVID flattening in Europe as the U.K. said its 'r' number now dipped below 1.00 and is in a position to lift lockdown restrictions by the next 10-days. Also, Germany may ease lockdown soon. And both Europe and the U.S. are now on the way to get sufficient vaccines to end the mass-vaccination process by Dec'21. Thus both sides of the Atlantic may develop the much-awaited herd immunity by mid-2022.
Oil was further boosted as the U.S. Treasury Secretary called for big fiscal stimulus ('Time to go big is now') in her virtual meeting with G7 finance ministers. Yellen also called for multilateralism under Biden admin, away from Trump's unilateralism. Yellen reiterated Biden's commitment to fighting against climate change in line with the G7 agenda rather than Trump's policy to oppose it.
The U.S. Treasury issued a formal statement:
Department Spokesperson on Secretary Janet L. Yellen's Participation in the G7 Finance Ministers and Central Bank Governors Meeting
Earlier today, Secretary of the Treasury Janet L. Yellen participated in a virtual meeting with G7 finance ministers and…


Read More: Oil soared on signs of faster rebalancing, global plateauing of COVID, and