California utility giant Sempra Energy is dusting off plans for natural gas storage in salt caverns in Cameron Parish as more liquefied natural gas export terminals are built in southwest Louisiana.
In 2005, Sempra had proposed retrofitting two caverns for natural gas storage under its Liberty Gas Storage project. The company proposed removing salty water so the empty caverns would have the ability to store 23.4 billion cubic feet of natural gas, but the project was postponed indefinitely several years later.
New plans near Hackberry by Sempra subsidiary LA Storage LLC target four structures, calling for converting three existing salt caverns for natural gas storage plus a new cavern. They would have a combined total storage capacity of 25.5 billion cubic feet of natural gas. Sempra also is a majority stakeholder in the nearby Cameron LNG export facility.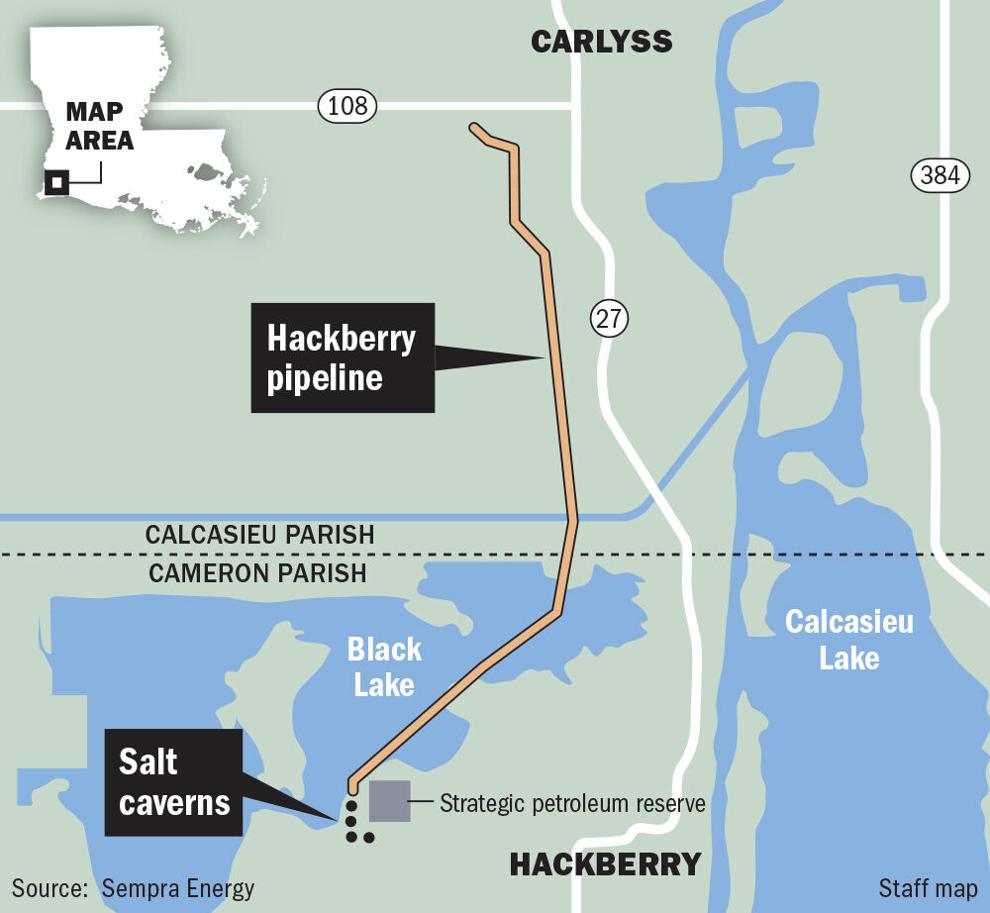 In addition, pipelines are proposed to connect the storage cavern project to existing natural gas hubs. The 160-acre site where all four salt domes are located sits next to the West Hackberry Strategic Petroleum Reserve, a federal salt cavern oil storage site holding emergency reserves of oil for the nation.
Each day, the four Sempra caverns could withdraw or add 1.5 billion cubic feet of natural gas. 
Cameron LNG exports up to 12 million tons of LNG each year from three units at its export terminal, the equivalent of 1.7 billion cubic feet each day. A proposed expansion of Cameron LNG could add two more units to the site, boosting its export capacity to nearly 25 million tons each year.
The natural gas storage facility looks to begin construction during first-quarter 2022 after securing environmental permits. The project would support 300 construction jobs and expects to begin storage operations by the second quarter of 2024. About 10 permanent jobs would be created. The company expects to spend about $79 million locally on construction materials and services in the region. 
Sempra Energy asserts that there is demand in the market for such a storage project and interested customers sought to lease 20 billion cubic feet of storage for their own natural gas through nonbinding agreements. Since then, the company is negotiating contracts with potential customers.
"Respondents … represented a diverse group of market participants, including LNG facilities, marketers and members of other important segments of the natural gas industry," according to its application on file with the Federal Energy Regulatory Commission. "This response demonstrates an existing and pressing need for the Hackberry Storage Project."
The project sits within 15 miles of pipelines that already connect to the largest LNG export facility in the country, Sabine Pass LNG, but also Venture Global's Calcasieu Pass LNG that is…


Read More: LNG export company looks to salt caverns for natural gas storage in Cameron